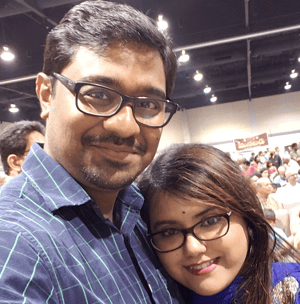 In August of 2016, I decided to come to the United States with my wife. Leaving a career in India, I faced a lot of fear and uncertainty. Would I be accepted in the new culture? Would I get a job? Could I sustain? Loads of questions were running through my mind, and I had no answers — at least not until I got an interview call from Ad Astra. The first ray of hope!
Fast forward to December 2016, I landed in Kansas and had my face-to-face interview scheduled for the very next day. The anxiety continued, but something inside was telling me, "It will be all good!" And thank God, it did. Everyone was very cooperative and not for a single moment did I feel out of place. That was the start of my wonderful, growing career at Ad Astra Information Systems.
Ever since then, it has been a fulfilling journey. The open culture here always makes me feel at home. People are very friendly and jovial. I've met some great colleagues here who've turned out to be my buddies, and we've shared awesome moments together. I personally enjoy the excitement and sense of celebration at all of our internal company meetings. Additionally, the daily stand-ups are a great way to start my day.
As a computer science engineer, I have always appreciated the use of modern technology, rich design, and efficient architecture. Ad Astra has always stood tall in that domain. Before joining the company I was more of a .NET developer, but today I get to work with all the latest technologies starting from NodeJS to .NET Core, from MongoDB to Amazon Redshift. Being on the R&D team has opened up new horizons for my development skills; we use the cloud today to our maximum advantage. Optimizing and tuning the code to make it most efficient has been a key focus of the development and leadership teams. Management has always given us the freedom to try out new things, be it a new database, new framework, or even a completely different design. The focus has always been on giving the best to the customers.
Regarding leadership, Tom and Jackie, Ad Astra's owners, are the most humble and down to earth people I have ever met. They truly have a heart of gold. The thing I like the most here is the openness. I feel that my voice is heard, and I have the flexibility to speak up. The management team always has a patient ear to whatever we have to say. People respect each other's opinions, and we are always ready to improve ourselves. It feels more like a family than just a workplace. I've never had a day when I had to drag myself to work. Ad Astra is a fun place to work with flexible holidays, a casual dress code, and of course, Brown Bottles, our bi-weekly internal all-company meeting. I love my work here and am very excited about the next version of the software that we're building.
I am a developer, and this is my story!