Updated January 16, 2022
Student-Ready Strategies, a consulting and technical assistance organization that partners with colleges and universities, recently released When the Crisis is Over: Becoming Student-Ready in Post-Pandemic Higher Education, a powerful call to action for higher education. The report focuses on rising seniors, current college students, and unemployed or furloughed adults impacted by the pandemic and some strategies to be student-ready for these populations. A list, although not exhaustive, of helpful strategies is provided for institutions and states to consider.
"Each of the three student groups we identify in the report will be affected by this global crisis in very distinct ways. They will each have different challenges that require different interventions," said Sarah Ancel, founder and CEO of Student Ready Strategies. "To serve them well, states and institutions need to anticipate these issues, avoid potential pitfalls, and implement intentional reform efforts."
One of the potential pitfalls outlined in "When the Crisis is Over" is a traditional remediation relapse, in which colleges and universities that have been actively phasing out stand-alone remedial courses would reverse course due to concerns about lack of preparedness in rising seniors. The report also warns against financial aid policies that make it difficult for current students who had to drop courses or drop out last semester to re-enroll and offers recommendations for improving these policies. Unemployed workers who turn to higher education will need to quickly earn a degree or credential so they can get back into the workforce. "When the Crisis is Over" provides guidance on how states and institutions, recognizing the busy schedules and valuable life experiences of these students, can help them achieve their goals.
What Does Being Student-Ready Mean?
Becoming a Student-Ready College (McNair, Cooper, McDonald, & Major, 2016) begins with the premise that all students are capable of learning. According to Tia McNair, " The characteristics of student-ready colleges and universities are not focused on student deficits, but on what educators can, and must, do to change institutions for students." Every member of an institution has a role in being a student-ready campus.
Why Is Course Scheduling a Student-Ready Strategy?
Course scheduling is integral to effectively deliver a curriculum or credential on a college campus. The basic operation of registering for courses allows students to move through their academic program. Because the course schedule can impact access, progress, and completion outcomes, it is essential for institutions to align the course schedule with student demand to be student-ready. Students who are not able to take the courses they need at the time they need them in their program of study can suffer unintended consequences. Such unintended consequences can be accumulating excessive credits and debt by taking classes that are "open" just to maintain a full-time schedule, adding time to degree, or even dropping out due to frustration and lack of resources.
The needs of the post-traditional, post-pandemic student are complex, yet the course schedule at many institutions is still rolled over from term to term without consideration or, in some cases, the tools to adjust it, to meet the needs of the students they serve. A new and better way to manage academic offerings is needed. Given all the other challenges students face, institutions must do everything they can to decrease barriers to completion. Providing a course schedule aligned to student demand will meet the needs of the students the institution serves. A student-ready institution puts forward a student-ready course schedule.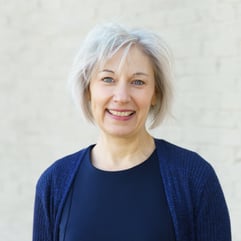 About the Author:
Lisa spent 15 years in higher education, serving as a full professor and academic administrator. She has published and presented on a wide range of topics in higher education, including student success, curriculum planning, assessment, institutional effectiveness, accreditation, and higher education leadership. At Ad Astra, Lisa works with institutional leaders to design a mutually beneficial partnership that addresses their needs for data-informed academic planning solutions. She coordinates Ad Astra's educational content and regularly contributes as an author.