Giving back - there's just something about it. Whether you give your time, money, or expertise, there's no other feeling quite like knowing you're directly making a positive impact in the lives of others.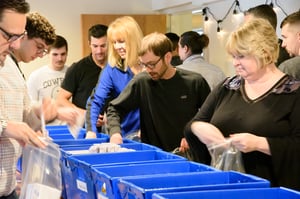 Recently, Ad Astra partnered with Heart to Heart International and their PowrServ program, which provides hygiene kits for people impacted by crisis or disaster. Team members spent their morning packaging 500 personal hygiene kits. These kits will serve as the first line of defense against the spread of illness, and help provide the recipients with a bit of normalcy during a turbulent time.
"Between travel plans, shopping, and figuring out menus, it's easy to get tunnel vision during the holidays," said Charlie Stroble, User Experience Manager. "I really enjoyed helping put together Heart to Heart International's hygiene kits. It's a great feeling, especially around the holidays, knowing our efforts will make an impact in someone's life."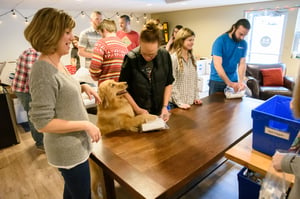 Ad Astra has partnered with Heart to Heart International for more than 10 years. Over that time, we have supported their work with contributions of time and financial resources. Our team members have taken part in multiple packaging events to assist with disaster relief efforts, and in 2012, a group of employees traveled to Guatemala for a service trip to help local communities with medical and water needs. We are currently planning a similar service trip opportunity for 2019.
To learn more about Ad Astra's philanthropic initiatives, click here.